After struggling in her job search, our makeover winner got the resume that shows her at her best.
With over 20 years of administrative experience, Felicia is a pro. She's great at her job and she knows the value she can bring to a new employer. However, as she was conducting her job search, she hit a snag when it came to translating that experience onto paper. Looking to shake things up in her efforts, Felicia entered our resume makeover contest — and won!
A qualified candidate, but little interest
Though Felicia had only been searching for a new administrative position for three to four months, she was frustrated. Applying online had yielded a handful of initial phone screens, but nothing more. She was highly qualified for the positions she was applying for, so where was she going wrong?
Her resume wasn't selling her. Felicia needed a streamlined document with a strategic layout in order to beat the bots — the applicant tracking system (ATS). Only then would her resume land a spot on a hiring manager's desk, where it would have the chance to wow.
Simply put, her current resume wasn't cutting it. Thankfully, her professional resume writer, Billie, was up to the challenge and ready to make sure Felicia was positioned to land the administrative job of her dreams.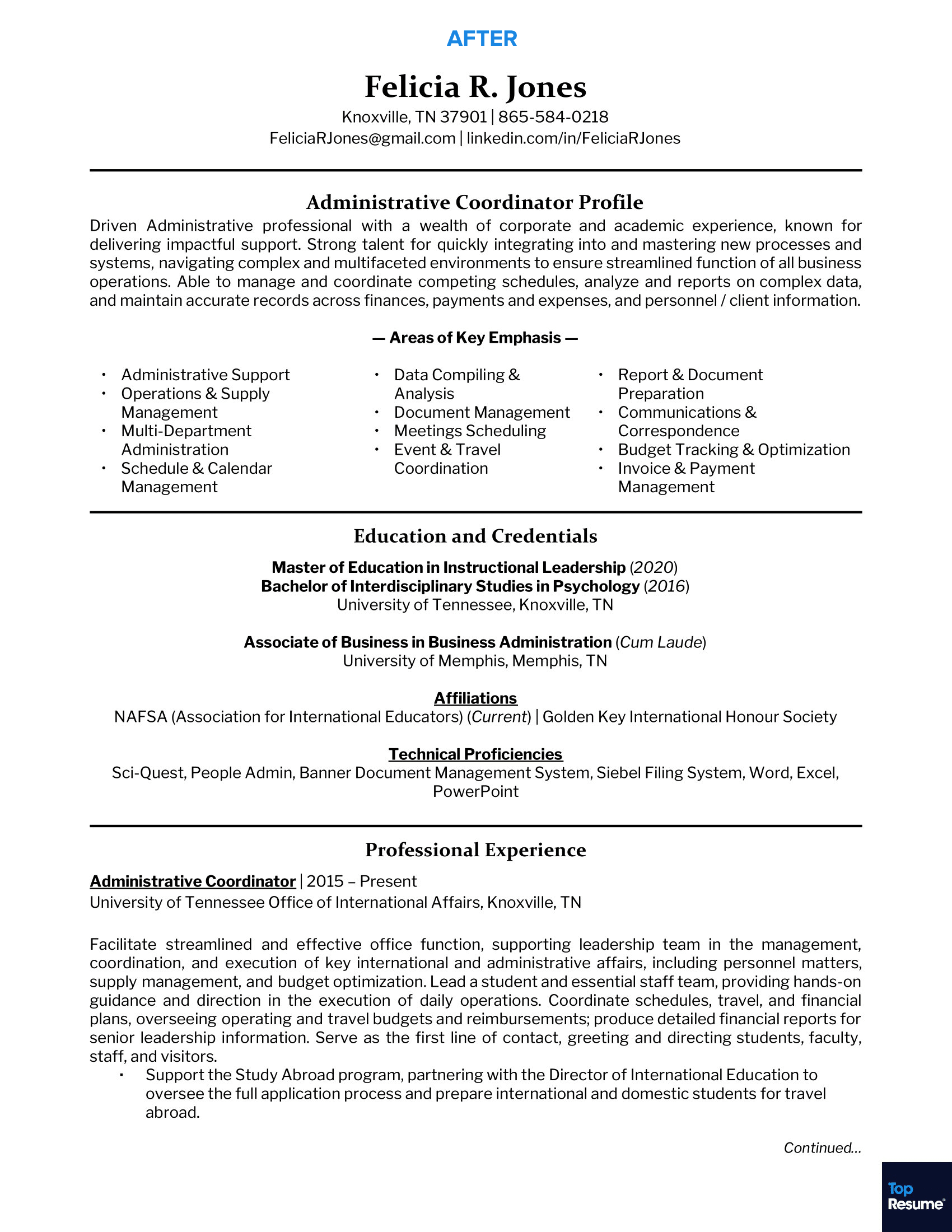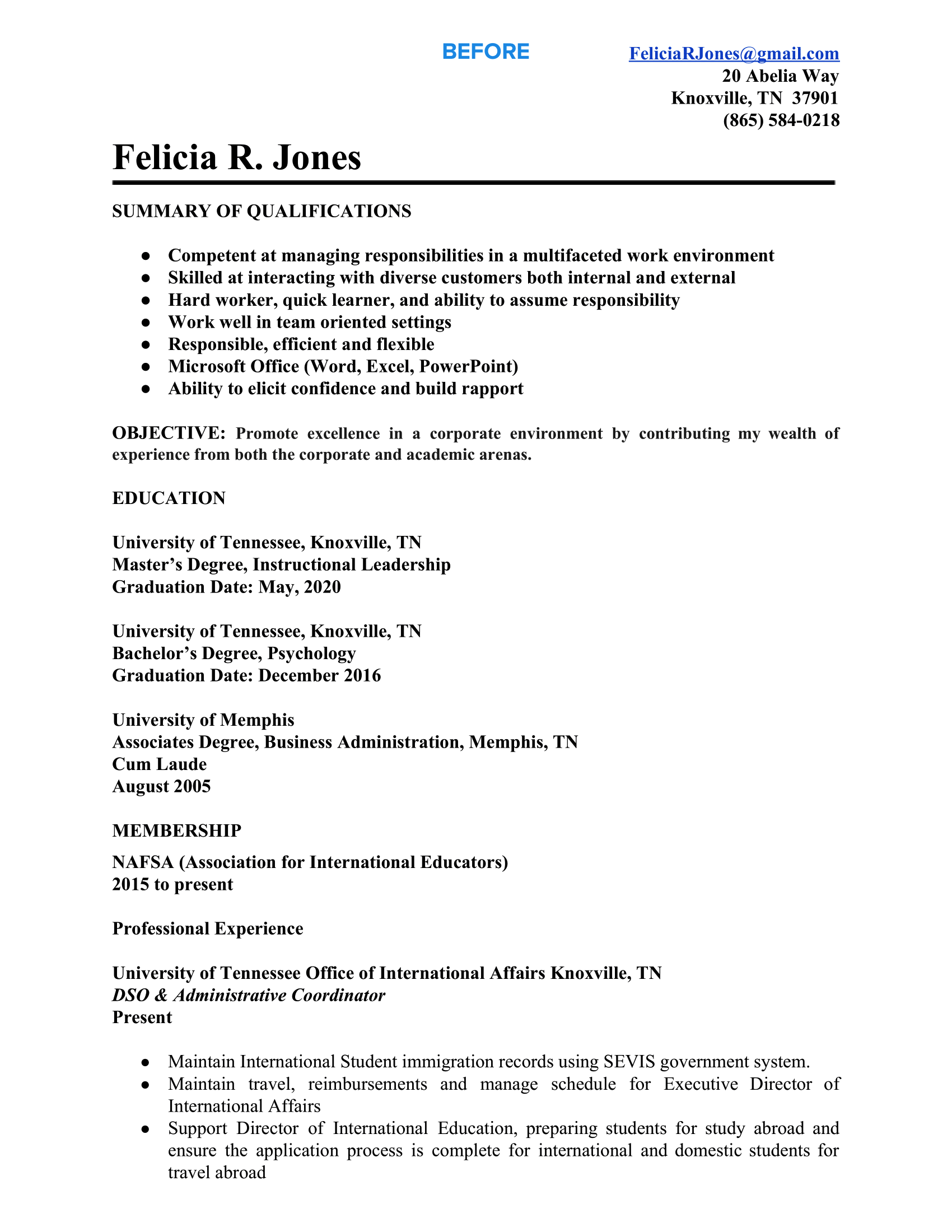 A resume writer on a mission
Billie dove right into Felicia's professional background on a mission to give her a resume that would turn her job search around.
New formatting
To kick things off, Billie focused on reformatting Felicia's resume, as a new, optimized format was key.
I provided a more streamlined, visually friendly format which better engages the reader. Her summary is detailed but easy to scan, and the inclusion of Areas of Key Emphasis bullets ensure that her professional value is immediately identifiable within seconds of opening the document.
The unfortunate truth is that hiring managers are inundated with tons of applications. On average, they only scan each resume they come across for six seconds. You heard that right, six seconds! It's imperative to make a positive impression right away, which Billie knew and accounted for during her rewrite.
Overall format wasn't the only area in which Felicia's resume needed some readjustment. The formatting of her contact information did not adhere to resume best practices, which could have resulted in the ATS misreading her information. Billie made the necessary edits to ensure that best-practice standards for formatting Felcia's header were used. Now, when a hiring manager decides that she is a candidate to consider further, they will be able to contact her easily.
Highlighting technical proficiencies
Years in administrative roles often means vast experience with databases and data management technologies. Highlighting these technical proficiencies front and center on Felicia's resume was essential to ensuring that those skills are both picked up by digital scans and easily seen by hiring managers. Billie added a Technical Proficiencies section under Felcia's Education and Credentials headline to make sure they wouldn't be overlooked.
Reframing duties as accomplishments
Since administrative roles often don't have quantifiable achievements, Billie restructured Felicia's roles to position her duties as such. For instance, instead of saying that Felicia "Read and determined disposition of incoming correspondence, reports, and other information," Billie repositioned that as an achievement and stated that she "Ensured effective communications with the public by determining tone and disposition of correspondence and other incoming data, preparing leadership for escalations or issues."
Portraying action
As a final consideration, Billie reformulated Felicia's Professional Summary paragraph to reflect the active role she has played in maintaining the function of organizations: language like "Hard worker, quick learner, and ability to assume responsibility" were redeveloped to read, "Strong talent for quickly integrating into and mastering new processes and systems" to better position her as an active agent in the success of her employers.
A candidate positioned for success
When Billie delivered Felicia's resume, the job seeker's response was exciting; a new resume meant a total change of perspective and confidence for Felicia. She quickly responded to Billie expressing her excitement:
"This is just all too amazing! I hardly recognize myself on paper, LOL! I love the flow and layout of the resume. You rock, Bill!"
We chatted with Felicia to learn more about her experience and the results, and here's what she had to say:
"First of all, when Billie sent me the rewrite of my resume I was like, "Who is this!?" It was so good. Everything I wanted to say but didnt know how to articulate. I'm really really happy with it.
The experience overall was really awesome. Billie was very responsive via email, incorporating changes I wanted. She took the information I gave her and whipped it up. She rocks. It was just so amazing. I never had this type of service before but I would highly recommend this to someone if they were trying to revise their resume and give it a facelift. It's definitely an investment. It's worth it.
I'm very confident. I know it will get me in the door and I definitely feel confident that I will get hits. I keep reading over it and feeling like I'm so impressive. Now I just hope I can sell myself in an interview! However, I'll be using my resume to help remind myself this is my experience and I'm impressive!
The cover letter is also awesome. I'm thankful I had the opportunity to win the makeover contest. Must have been meant to happen! I know if I was looking for someone in an administrative capacity I'd want to check me out!"
Moving forward
Felicia now has all the tools needed to land a new administrative role, and as a more confident, excited, and prepared candidate, great things will undoubtedly be right around the corner. Wishing you the best of luck, Felicia!
Want a resume rewrite like Felicia? Learn more about working with a professional resume writer.
Recommended Reading:
Related Articles: