The best time to make your resume pop is now.
You may wake up one day and think to yourself, "It's time to start a job search." And instead of diving right in, you're probably doing a whole lot of planning and preparation. First comes research, and then the writing, rewriting, and perfecting of all your professional materials before the actual job searching begins.
Yet, it all starts with a feeling. Riley was happy at his job, doing well and progressing, but his gut was telling him it was time to start exploring new opportunities. When he heard about our resume makeover contest he thought, "Why not?" and entered. To his delight, he won.
Work on hold
Riley works for the NBA and due to the pandemic, business was at a standstill. This pause in work, however, afforded him the time to think about his next professional steps — especially as things were starting to feel stagnant in his current role. While he wasn't dying to leave, this was the perfect time to start preparing for the future. And that preparation started with a new, eye-catching resume.
A resume positioned for the future
As a media relations manager looking to advance his career to a communications manager or director-level role, Riley needed a resume that properly showcased his stellar experiences and accomplishments.
His resume writer, Traci K., detailed that, "His existing resume format was out of date in terms of style, and the all-bullet format made it difficult to distinguish his achievements from his responsibilities." Traci started by choosing a new format that's proven to be highly effective for manager/director roles with a more modern and colorful layout, a stronger resume career summary, and a core competencies table.
The core competencies table is a great way to capture the hiring manager's attention and ensure they immediately see his key skills.
She then rewrote Riley's professional experience to focus on the contributions he's made to his employers. His new resume clearly shows his professional growth, emphasizing the key skills he brings to the table.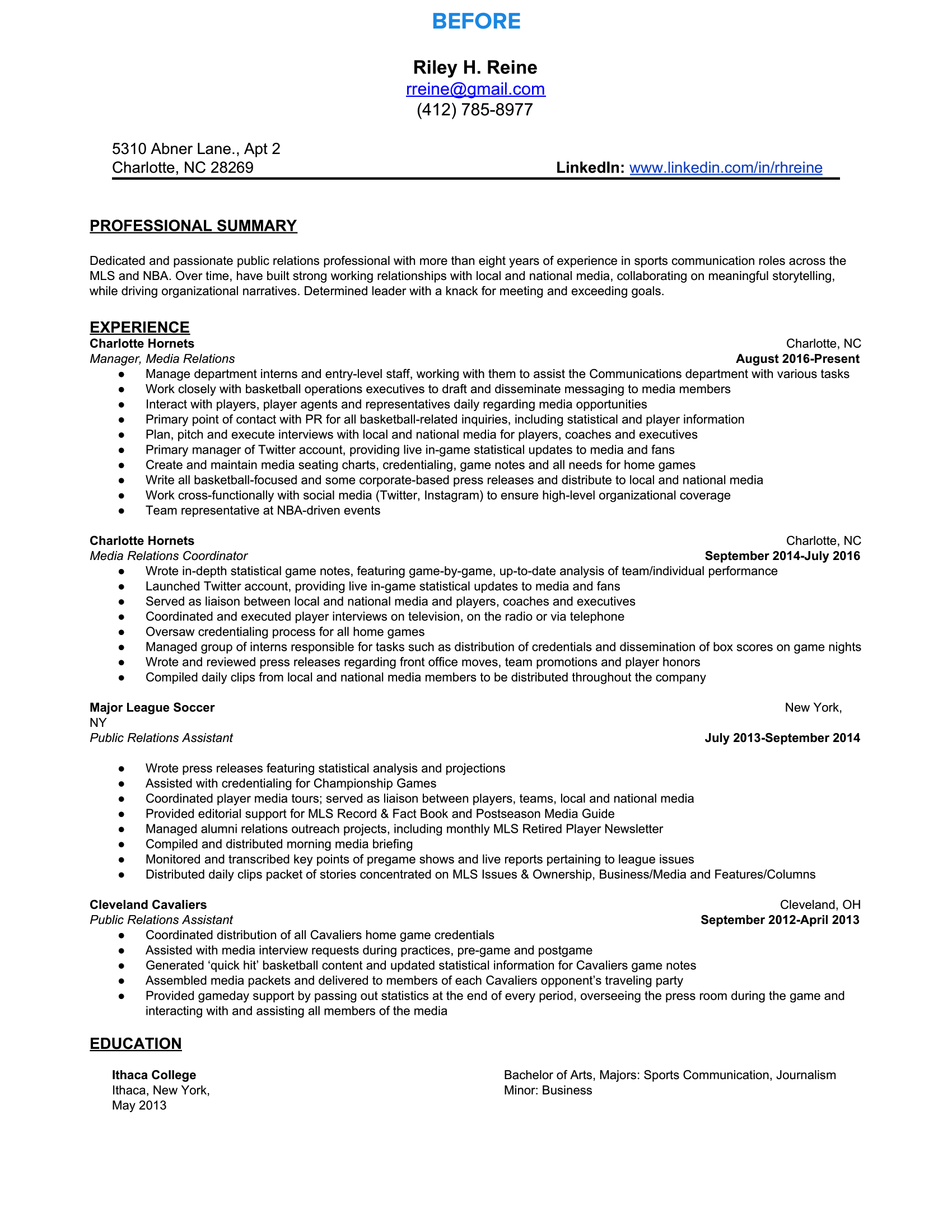 Resume length lessons
Riley not only received a new resume that is ready for a job search, he learned a thing or two about the art and science of resume writing. Riley let us know that in addition to being responsive, Traci was helpful and taught him a few tricks.
Riley had always been under the assumption that his resume needed to be one page. Traci explained that in this day and age, and with his level of experience, two pages was the route to go.
Process makes perfect
At the end of the day, Riley felt that the TopResume resume rewrite process was really smooth and easy. Traci was available, always checked in, stayed in touch, reminded him how many days left before the final results, and kept tabs so that he didn't have to, creating a seamless experience.
The finished product
Riley let us know that the layout of his resume has become more visually appealing and exciting, and that from an organizational standpoint, the layout is much clearer. He had far too many bullet points before, and now his resume is a mix of sentences and bullets, making the document much more digestible.
We asked him, "How do you feel moving forward with your new resume?" His response:
"Excited. I'm not sure when something will pop up, but I'm ready and confident that if and when an opportunity arises, I'll be able to apply right on spot."
While he didn't think his initial resume was bad, this one just "pops" — which is exactly what's needed to make an impression and secure success. Best of luck, Riley!
Don't let your resume fade into the background. Let our expert resume writers help.
Recommended Reading:
Related Articles: